The Red Army female snipers of World War ll. The most common rifles for the Red Army during WWll were the sniper versions of the a .30-caliber (7.62mm) bolt-action rifle Mosin-Nagant, with a 5-round internal magazine. They were usually fitted with a 3.5X fixed-focus scope. Later in the war, some elite snipers received new semi-automatic Tokarev SVT-40 rifles, which fired the same cartridge but had a detachable 10-round box magazine.
Female Snipers of the Red Army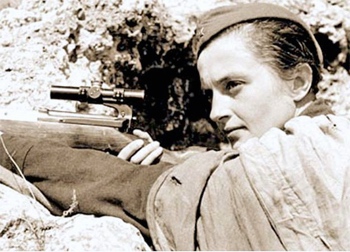 Lyudmila Mykhailivna Pavlichenko was born in the Ukraine in 1916. At the age of 15, while living in Kiev and working at the Kiev Arsenal Factory, she joined a shooting club and became a sharpshooter. In June 1941, when Germany invaded the Soviet Union, Lyudmila had completed her fourth year of studying history. She was among the first to volunteer for sniper training and requested to join the infantry. Assigned to the Red Army's 25th Rifle Division, Lyudmila was credited with taking 309 Axis soldiers in just 14 months. After being wounded by mortar fire, she left the front line to train numerous other female snipers for the Red Army and become a public spokesperson. Amazingly, she later traveled to the United States during the war, and was the first Soviet citizen welcomed at the White House by President Franklin D. Roosevelt. She also met with Eleanor Roosevelt and attended fundraisers, where she was awarded both a Colt 1911 and a Winchester Model 70. After the war, Lyudmila finished her education at Kiev University and began a career as a historian. She died on October 10, 1974, at age 58.
In June 1943, 17-year-old Klaudia Kalugina was one of the youngest females to attend sniper school. When asked in a recorded interview about the training, she said, "They taught us tactics: how to shoot, how to camouflage. Also ballistics, how the bullet flies. Here it flies, here it hits." Klaudia was partnered with her best friend, Marusia Chikhvintseva, in the winter of 1944 as a sniper/scout team on the front lines. That summer, a German sniper killed Marusia from 200 meters away. Klaudia spent the rest of her life living for Marusia. She claimed an unconfirmed 225 kills.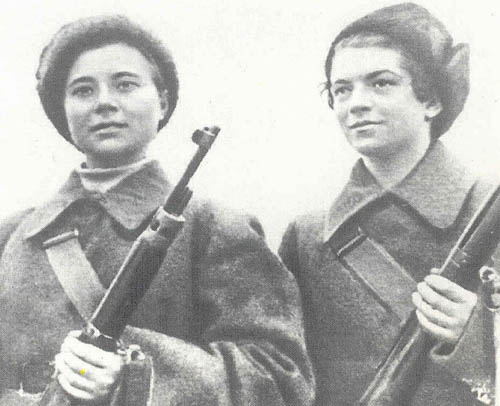 Natalia Kovshova and Maria Polivanova were both born in 1920. Together, they attended training for snipers and volunteered for the front. They dug antitank trenches, took part in the defense of Moscow and trained. Less than a year later, in August 1942, during a battle in which many Russian soldiers were killed, Natalia and Maria were two of the few who remained alive, although wounded. They waited in their trench until German troops approached, and then detonated their grenades, killing themselves and their enemy. They were posthumously awarded the Hero of the Soviet Union commendation in recognition of their sacrifice.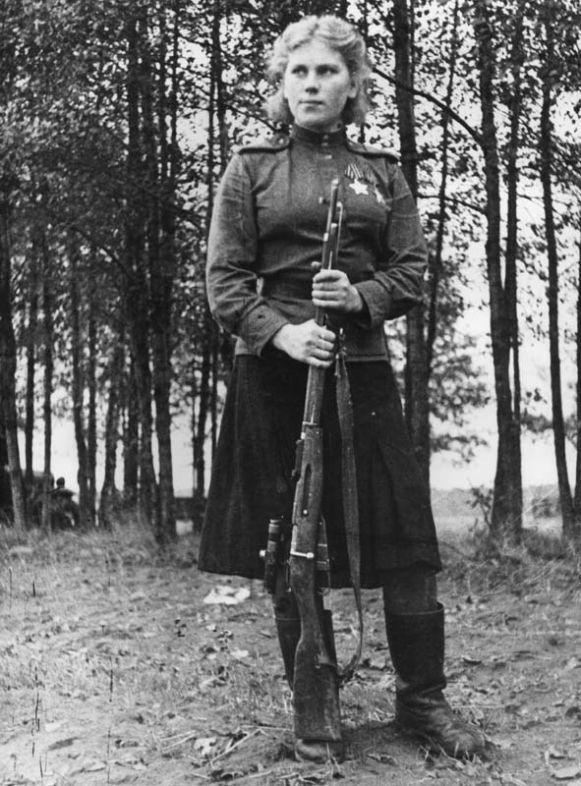 https://www.buckeyefirearms.org/8-red-army-female-snipers-world-war-ii